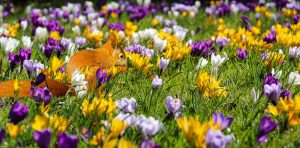 You see it. This thing, this offering. You feel a surge of excitement, like a fresh breath of air. This could be fun, it could be wonderful! And so the game begins:
Your eyes quickly scan across the whole thing. Where is that price tag? Ah, there it is. Oh. Oh…
You're already in the midst of it.  The Fear, even if you may not experience it as such. Maybe you just call it "worry", or "concern", or "thinking it through". Because this is a significant amount, for you. And so you have to ask yourself The Question. Or rather, what you believe is The Question:
"Is it necessary?"
It probably isn't. What is necessary anyhow, besides food and water and a little space to live and breathe? Clearly, this thing is not that.  You probably don't need it at all. "Not necessary", your mind concludes. And, while your mind is doing its job, you feel disappointment.
Because, you, the living you, you really want this.  There is the excitement of it. The attraction. The happy feeling!
And so negotiations start inside of you.  You consider. Pros and Cons. Shoulds and Shouldn'ts. Joy and Fear. And underneath it all, the bigger questioning, even if it rarely comes with these words directly:
"Do I deserve it? Am I worth it? Can I have it?"
This question is so much bigger than the thing that you want but aren't sure whether you can afford. This question is bigger than the negotiations within. This question goes way, way, back.
Back to the time when you were pure innocence, and from that space of innocence you did what every pure soul does, knowing that everything is possible and everything is a yes.
You simply reached out for what you wanted. And right there, in the midst of your joyous openness, which saw and knew what it wanted beyond any doubt and was open to receive it with all its innocent fullness, right there something happened that shattered your world.
The No. "No. You cannot have it. Don't touch it. It's not for you."
"Not for me? It's there but it's not for me. It's there so it must be for someone. But not for me. I cannot have it. Something must be terribly wrong with me! Something I'm not even aware of. I don't deserve it. I'm unworthy"
This is how our innocent, open, curious, courageous, life-loving yes is being wounded and scarred. This is how it turns into an internal no as well, a no to ourselves, a no to our urges and desires, a no to life as is. This is how it turns into self-denial.
This is what's been happening most of your life, for you, for those around you, for all of us that have been hypnotized into a trance of scarcity, emotional and financial.
But now, my friends, times are changing. The time has come for the awakening from the trance.
We are awakening to our joy, our curiosity, our yes to life in all its forms. We are awakening to the fact that life is not about necessity and it's certainly not about deserving.
Because nothing is necessary and we deserve everything.
Because we are everything.
Because this is an adventure that you're being guided on. And if that adventure takes you into a joyous yes to something, then it is simply an invitation to go there.
Not because it's necessary, not because it's the sensible choice, but simply because this is where the adventure is calling you to go.
To the wonder!