First, a disclaimer: I am not an ambitious, driven personality as such.  🙂 So when I speak about the next level and getting there it's not about that. Rather, it's about the journey to the next level of freedom, of joy, of your life's work, of a relationship perhaps – whatever matters to you. And there's a paradox  there… Listen in…
Below are some key points from the video:
Getting to the next level is not like climbing the steps of a ladder. Rather, it's a spiral- like unfoldment.
So how do we get to the next level?
There is a paradox there, because the person that we will become at the next level sees things from a more expansive perspective than the person asking the question, so how can the one asking know how to get there? Based on experience! And the experience is… Well, there we have another paradox:
The movement towards the next level is happening as we stay where we are. In other words, as we are fully present in this moment,  receiving the full gift of the here and now
Eckhart Tolle
speaks of our tendency to trade the present movement for some future moment. Yet there is no better, more fulfilling experience than that of being present here and now.
And even if the next level can, by its nature, feel more expansive, joyful, fulfilling… It can only happen through our presence there – which starts with our presence here!
The good news (well, it's all good news really…), but the really good news 🙂 is that there was a time where we knew exactly how to do this. We were born as the masters of growth!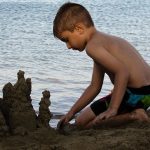 Children are masters of reaching the next level, being fully present while growing and building like no one else can.
They and we know, instinctively, that the art of growing lies in the being fully here and now. And then things unfold, not because we need them to but because we are savoring the perfect magic of here and now.
Of course, what we have to be present to here and now and what we grow and build these days is so much more than sand slots… This is not for the faint of heart, as they say. 🙂 If you feel you need or want support for your journey, here are some options 
~~~
Images by cocoparisienne  and Image by Dimitris Vetsikas from Pixabay